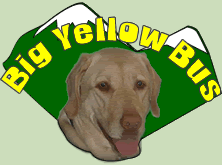 Deep thoughts by the Big Yellow Bus
My parents are so into their shoes, as I mentioned before my mom loves her
Asics
and my dad loves his
Brooks
. But, I have to tell you - I came built in with the best running shoes of them them all. Sure, cougars and leopards can get up and go, but we basically wear the same treads and I bet after training for this big 50k, I'll be able to out-hike those hoity-toity, big-game cats any day.
LABS ROCK!!!
It may seem like all I talk about is the heat, but if you wore a fur coat 24/7, you would understand why it is always on my mind. Today we ran at 5:30am and it was already 90 degrees!!! Yikes!!! That is really the hottest I can run in, even then it is pushing it. Mom is like - "Timber...drink your water.....Timberrrrrrr...drink your waterrrr" - hee hee, makes me giggle. She is such a worry wart. Dad hasn't been running with us most of the week due to the fact that he has been prepping the lawn for something. Maybe he's putting in one of those green lawns like the one that I pee on nextdoor? Right now the soil is tilled and cool and has some tastey treats mixed into it. The bag reads, "forest compost" or something like that... but who's got time for reading when there's so many new scents to submit to memory. Laying on cool tilled dirt is how I like to roll when it's 110 outside. Now if I can just get dad to spill some beer on the porch, I'll be in hog heaven.
L8R peeps - Keep on keepin on - I think I just heard the pizza guy ring the doorbell and I just love the smell of pizza in the evening as I chase that poor sucker back to his humie-hauler before mom has time to tip 'im. Ahhhhh, the life of a dog....sweeeet!!!