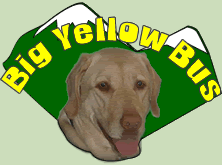 Nothing like lounging on the tile after a hot Saturday morning run!
Hello Buddies! Our run was great this morning, I pulled my parents along the entire way. My parents love Saturday runs, they kick off the weekend just right. The only problem was the heat. It was so darn hot outside and since
dogs don't sweat
like humans, I need to be careful out there. We are going to start getting up earlier in the mornings. My parents are always very cautious about not letting me over heat, but if we run before 6am we should be in the clear. Now, I am going to have to be even louder in the mornings to get them up! But, they agree, we will now run at 5am. Score!!!!! Little do they know, I will now start trying to get them up at 4am! Oooooh, I love it!
Dad started off with his arch hurting him again this morning. However, once he got warmed up, he started to feel good. He really likes his new
Brooks Dyad 4
shoes. Mom has her eye on some new trail running shoes. She is looking at the
Vasque Velocity
. She needs a good motion control shoe as she overpronates. She really likes her road shoes, the
Asics Gel Foundation
. She has been wearing Asics since running on the cross country team in high school. If anyone has any recommendations for trail running shoes please comment!
Okay, enough about shoes. I had mom take some pictures of me after our run so I can show everyone what I look like after a hot run in AZ. Notice the fan and the cool towel around my neck. After a run, I just feel so fresh and happy!
Check out my cool watch!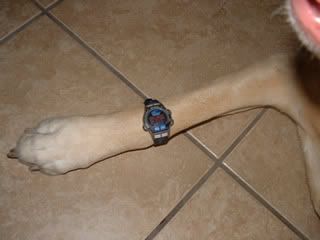 I feeeeeeeeeeeel good!
From the movie Tommy Boy......"Luke I am yourrr faaathhher"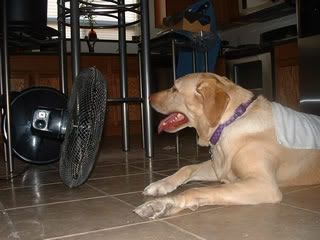 This is me being silly!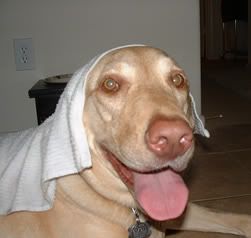 Have a great weekend everyone...get out there and enjoy life!!!