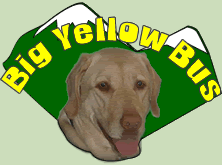 Feeling hot - hot - hot....
I can't wait until it cools off so we can get on the trails. There are so many great trails in the Phoenix area. South Mountain is right in our back yard and still has a few secret areas that the general public does not know about. We have yet to explore much of the Estrellas but plan to soon. Our favorite trail though is in the White Tanks - it is the Radio Tower hike via the Goat Trail. It is just under 8 miles, but includes a steady climb all the way to the top which is great for mom and dad's legs. Plus, it is gorgeous. It is Arizona desert at its best. We have even been lucky enough to see a group of deer just off the the goat trail. What a sight to see just 45 minutes from Phoenix. We only recommend this trail be done in cool weather. There are large ravines of boulders throughout this hike that radiate heat from the sun, making it extremely hot. Mom and Dad learned their lesson the hard way....as did I....gulp!
Speaking of heat....mom and dad love me so much that they are finally putting in a backyard. They spent all day this past Saturday outside in the 100+ degree weather raking, tilling and putting in top soil to prepare for the sod. If that isn't love, I don't know what else is.
I am off to go sniff around. Too da loo!