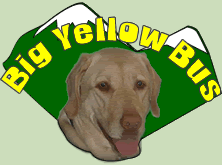 I'm baaaaack
Things are going great around the yellowbus household. I got Mom and Dad new Mountain bikes. I can't keep up with them when they ride the trails, so I have to stay home when they ride. Which is fine with me, I need time for my mega naps every now and then. Plus, when they are out there riding, I know they are having fun, which makes me happy. This is Mom's first Mountain Bike. She got a
Gary Fisher Big Sur
. She is catching on really quickly and just loves it. She used to do a lot of road riding, but is now asking herself why she never started Mountain Biking. She is fully addicted. Dad is being very patient with her and teaching her lots of different skills. He used to do a lot of Mountain Biking in his days and is very happy to be on the trails again. The bike he got is the
GT Avalanche 1.0
. It is an amazing bike for a really great price. Dad is very pleased with his bike. I have already entered Mom and Dad into a race in December. Mountain Biking is so great for cross training because it helps build strength in the old quads. They can already feel the difference climbing the hills when trail running.
Speaking of trail running, we went on a kick ass trail yesterday. It is in South Mountain Park in Phoenix and starts on the north side of South Mountain at 19th Ave. It goes on for miles because it connects to many other trails. It is the perfect training ground because it has a mixture of steep climbs, technical downhill and long sections for endurance. I was in heaven on this trail yesterday.
Below are the pictures
:
This first picture is a view of the trail - to get to this point we had to climb over the mountain in the back ground.

Ahhhhh, resting in the shade.
This picture gives you an idea of the different types of terrain this trail has to offer.


Yeah - I look good.
Come on, hurry it up folks - I am waitin' for ya.
Okay, so some of you may think I look exhausted in this picture...but the truth is I am showing Mom and Dad some new stretches....I swear.
I am so glad it has finally started to cool off in AZ. Mom and Dad are finally starting to get into the nitty gritty of their ultra training. They even have a trail race to look forward to on Oct 14th! With the long runs, steep hikes and mountain biking, I know they will be ready!
Stay happy folks and keep living large - I know I will!!